And here the next set of catch-up 30 for 30 outfits! And yes, I did indeed wear the same skirt 2 days in a row. Gasp! But such is the life of a limited closet, right? I am now back in my hometown in the Chicagoland area for an old friend's wedding, and I'm super excited! Wedding season for most folks starts around the mid-twenties and continues for...well, I'm not sure, my wedding season hasn't quite ended yet :). I'm a bridesmaid this time around (you got a sneak peek of the dress if you read this post), which is always a good time. Still, it's been a few years since I've been to a wedding where I picked my own dress, so I'm looking forward to when I can be a guest at the reception, pick my outfit and do that whole eat, drink and be merry thing.
Anyway, on with the outfits!
Day 6: Dotted Apples -- a nice, bright, fun outfit. I love this shirt with its apple print.
Outfit Details
Blouse: Anthropologie Red Delicious Blouse
Top: Tahari
Skirt: J Crew
Shoes: Anthropologie Ylang Ylang Sandals

Day 7: Fall in Summer - This look has a more autumny feel to it, but I won't let that stop me! The BF and I got brunch and hung around this day, so I needed something comfortable.
Outfit DetailsTop: J Crew Starburst Tee
Cardigan: J Crew
Skirt: J Crew
Shes: Anthropologie Diamond Stitch Skimmers
Day 8: Pinks - All the incarnations of pinks in my 30 for 30 - blush, rose and hot. The high waisted ness of this skirt is just so great!
Outfit DetailsTop: J Crew Radiette Top
Cardigan: Anthropologie Clinging Blossoms
Skirt: Anthropologie Eureka Cargo Skirt
Shoes: Anthropologie Ylang Ylang Sandals

And finally, I have to do some admitted 30 for 30 item swaps. I haven't yet worn these items so I think it will be ok, but essentially -- two of the items were supposed to come new and didn't end up working out and one of them had a stain accident. Soooo...here are the replacements:
The Anthropologie Vappu Dress instead of the Alice + Olivia Danni Dress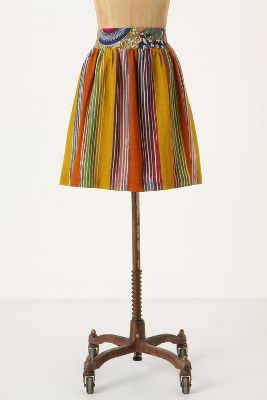 The Anthropologie Amhara Skirt instead of the Old Navy Yellow Skirt
The J Crew Eyelet Short (in grey, not black) instead of the Anthropologie Undisclosed Stitch Shorts
Hope you'll forgive me for the mid-remix item swaps! Stay tuned for more great outfits :D. Thanks for stopping by, see ya tomorrow!