Well, November has come and gone and I have set some wardrobe spending goals for myself for each month. So, here's full disclosure on what I've spent this past month and how well I've stacked up to my goals.
Here's what I bought: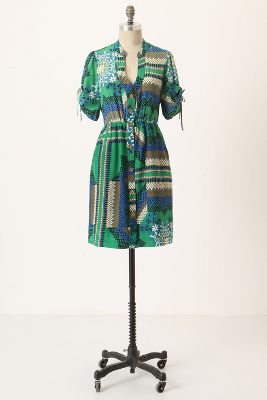 I
tem:
Anthropologie Rainforest Morning Dress (via the Effortless Anthropologie Trade Market)
Cost:
$40 (inc. shipping)
Original retail price:
$168
Why:
I've been stalking this dress since it came out back in 2010. It's silk, a shirt dress with an elastic waist and features my favorite color -- green! Well, I caught it on the Trade Market and couldn't NOT pick it up. And for a quarter of the price!
Assessment:
It's used, bought for >75% off and something I've been wanting for a long time. This was a great purchase.
I
tem:
Steve Madden stacked heel black pumps (via Nordstrom Rack)
Cost:
$60
Original retail price:
$98
Why:
I don't know why I fail to buy basics for my wardrobe. I think all the fancy patterns distract me when I go shopping! I just needed a good pair of black pumps.
Assessment:
This is my cheat item for the month. It doesn't meet any of my criteria other than it's a general wardrobe necessity.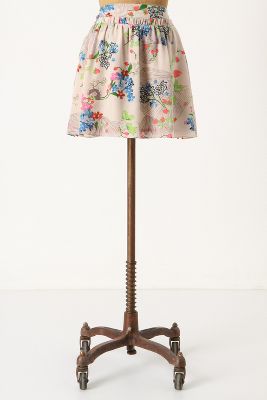 I
tem:
Anthropologie Lingonberry Mini
Cost:
$40
Original retail price:
$268
Why:
I picked this up on super sale during Black Friday. I love minis, this color palette is not in my wardrobe yet and, admittedly, I just got swept up in the crazy deals.
Assessment:
Ugh. This brought me over my monthly limit. I haven't received it yet because its in the mail, so we'll see if it stays in my wardrobe.
Grand Total: $140
So, I want to celebrate and say that this is a significant improvement over the last year of spending on clothes. In fact, I'm probably on the right track to actually be successful in the upcoming months! But I can't just yet. Why? Because of this:
I
tem
Vince Vintage Leather Jacket
Cost:
$399
Original retail price:
$995
Why:
I've been dying for a leather jacket for the last 2 years. This one fits, its a great color and it has a totally unique vibe. Not to mention, it's buttery soft and is a pretty reasonable (?!) price for something of this quality.
Assessment:
Well, it obviously blows all the limits I've set for myself. So why haven't I returned it? This may fall into the category of one of those investment pieces that will last me a long long time. So I need your help. Keep it as a Xmas gift to myself? Or stick to my budget guns and return it?
So what do you all think? Is this a keeper feature?
Thanks for stopping by!