Well, we're heading into fall again. Let's face it, the fall season is a style blogger's dream. This transitional season accommodates all the best aspects of summer and winter, plus adds its own flair. Throw in that feeling of anticipation that is drilled into us by 12-20 years of first days of school, complete with a brand new set of shoes, shirts, pants, skirts and dresses? How could you NOT associate Fall with the most significant wardrobe change of the year?
Well with New York Fashion Week happening and the blogger community getting all riled up about new styles, trends and whatnot, I've been jonesing to add a few things to my wardrobe for the upcoming season. I may not get them all, but a girl can dream, can't she?
Chambray Shirt
Chambray's been a pretty big thing all year, but there's something about crisp, fall air that I associate with cowboys. And cowboys, of course, wear denim shirts all the time! And since we know that denim matches, well, EVERYTHING, how could you go wrong with a button up on some jean-ish shade?
My search for this one is actually over. I found one at Target that has army pockets on the chest and roll up sleeves like the one above and I LOVE it. In fact, you'll see it on the blog for today's outfit, haha.
Anyway, you can find some good options like the one above at Target
here
(comes in light and dark), Old Navy
here
and J Crew
here
.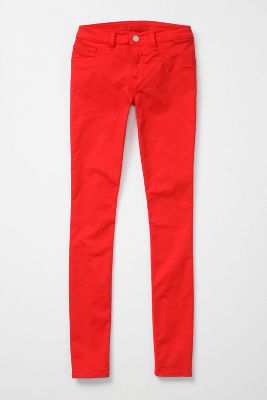 Red Pants
The red pants trend has been just a BIG FREAKING DEAL this year and I've been wanting some for a fair bit of time. The added bonus for petite women is that ankle length pants are hitting retailers in a big way -- 29" inseam? Yes please! I'm thinking that I might want a skinny pair, though a trouser style wouldn't be so bad either.
The ones pictured above have a 29" inseam by J Brand and can be found
here
. I'm also loving these ones by AG
here
. A nice, cheaper version from Express is sold
here
, and if you're down with the trousers, check out the J Crew Minnies
here
.
Leather Jacket
This may just be wishful thinking, but in the last year or so, I've been wanting to get a nice, classic leather jacket. Ideally, it would be a bomber or motorcycle style in camel or cognac. There's nothing like a woman wearing a leather jacket that is form fitting -- it's just so chic and can go with pretty much anything! Now if I can just allocate enough funds to manage the price...
Check out this high end version sold at Neiman Marcus
here
, a fancy Coach one
here
and one by Michael Kors
here
.
Flat Lace up short boots
I'm loving the lace up booties look with a shorter skirt/dress and tights or over skinny jeans. Like a leather jacket, it's a great way to up the edge factor on an urban outfit or add a rugged feel to a more feminine one. I'd love a flat pair in black.
Check out the pair pictured above at ASOS (on sale!)
here
, and an awesome brown pair by Sam Edelman
here
, an ASOS spin
here
and an in-your-dreams Chie Mihara pair that is neither flat nor short
here
.
Part 2 still to come! I may not get all of these this year, but that's what makes fashion so fun -- there's always next time! What are you pining for on your fall wishlist? Share in the comments!