I actually went to Anthro sometime last week to do these reviews, but hadn't had time to write them up. Apologies! In an effort to get them out there, I'm going split the reviews into 3-4 item posts. Part of the issue is that the dressing rooms have awkward yellow light, which combined with the iPhone camera, make for difficult to edit pictures. Bear with me, I'll get you your reviews!
Being a petite woman I've never really been one for a maxi dress. I'm not the biggest fan of my arms, it hides what I think are some of my best assets (i.e. my legs) and it also typically shortens the line of my body. Not to mention, maxi dresses mean that length becomes a huge potential problem.
The good
: The colors are great on this -- the purple and yellow are spot on. The length is actually decent for someone of my stature. I could wear lower heels with this and see myself walking on the beach with it. The material is nice and flowy.
The not so good:
Though I could see myself walking on the beach in this dress, that's about the only place I could see myself wearing it -- on some tropical vacation. And for that price? A pass for me.
I could definitely see other ladies in the blogging community rock this though!
At first, I thought this dress was some sort of chemise, but I was intrigued by the collar and the color. It looked like something easy to just pull on, pair with some flats, and go.
The good:
Interesting details, especially in the collar.
The not so good:
As you can tell,
I am absolutely swimming in this! The color also strikes me as a little dull.
This just isn't for me, it's a pass.
This bears a striking resemblance to the
Wisteria Halter Dress
, $148: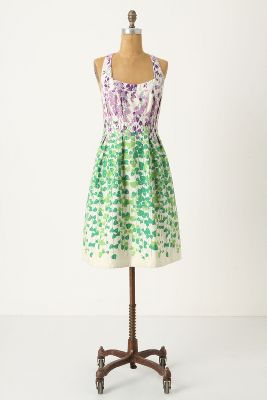 But at more than half the price, I'd take the chemise in a second!
The good:
I tend to gravitate to green and purple, and Eloise picked this pattern well. For someone petite like me, the length is good and it would go awesome with the right belt.
The not so good
: This is a chemise, so the construction isn't perfect. The back is elasticized and it's pullover styling.
That said, I'm going to be stalking this for sale.
That wraps up this round! Thanks for reading!