If you've been reading, you probably know that I'm going to participate in
Kendi
Everyday
's 30 for 30 challenge. It starts on Tuesday, so it's right about that time to pick my 30 items! And, with no further ado, here they are:
6 Tops:
From left to right, starting from the top: Zara Tee, Anthropologie Buds & Bunches Tee, Banana Republic Factory Mock Turtleneck, Anthropologie Yardarm Tee, Anthropologie Melting Cowlneck, JCrew Silk Collar Boatneck Tee
3 Button Downs:
From Left to Right: Anthropologie Catmint Blouse, Target Tucker for Target
2 Dresses:
From Left to Right: Anthropologie Kissing Friday Dress, Built By Wendy Crochet Minidress
2 Blazers:
From left to right: H&M Blazer, Uniqlo Linen Blazer
3 Skirts:
From left to right: JCrew Serge Cord Pencil Skirt, Anthropologie Abstract Greenery Skirt, Anthropologie Avant-Tweed Skirt
3 Pairs of Pants:
From Top to Bottom: The Limited Exact Stretch Classic Flare Pant, Gap 1969 Skinny Jean, JCrew Ankle Stretch Toothpick Jean
4 Cardigans:
Left to Right, starting from the top: JCrew Katelyn Ruffle Cardigan, Anthropologie Wind & Whirl Cardigan, Anthropologie High Speed Cardigan, Anthropologie Coin Purse Cardigan
5 Pairs of Shoes:
From Left to Right, starting from the back: Anthropologie Loose Reign Boots, Anthropologie Pebbled & Primped Boots, Anthropologie Brimming Button Heels, Target Taki Mary Jane Pumps, Anthropologie Renaesslaer T-Straps
If you were doing the math, that was only 28 items. I'm still on the fence about the other 2 items that will make the list. Here are the candidates:
Anthropologie Reed Shirtdress
Anthropologie Diamond Stitch Skimmers
Forever 21 Swiss Dots & Lace Top
Anthropologie Ascending Stem Shell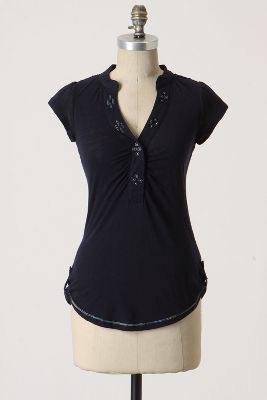 Anthropologie Billiard Halls Henley
Thoughts as to what I should go with? I'm really excited about this challenge. Hopefully I'll be able to make it all 30 days!
Thanks for stopping by, see ya tomorrow!